Apple Search Ads Keyword and Campaign Expert
Search Ads Maven is the conquesting expert for app marketers who want to win every search and achieve top results on the Apple App Store.
Request a Free Demo & Consultation
70% of Apple App Store visitors use search to find their next app
Search Ads Results have a conversion rate of over 50%
When it comes to a keyword search, there may be hundreds or thousands of results, but the one that really matters is the winner in the top position.
Search Ads Maven (SAM) is an Apple Search Ads (ASA) Campaign Management Platform that quickly delivers actionable insights to boost your campaigns and win every search.
It will help you optimize your keyword targeting and conquest keywords over your competitors more effectively than other App Search Optimization tools.
Trust your expert. Command and Control from one dashboard.
With Search Ads Maven, you'll benefit from:
Powerful analytics and campaign management tools with easy-to-use automation
Full integration with existing or new Apple Search Ads accounts
Actionable competitive intelligence from AppTweak
Management of ASA campaigns across multiple organizations in one dashboard
Request a Free Demo & Consultation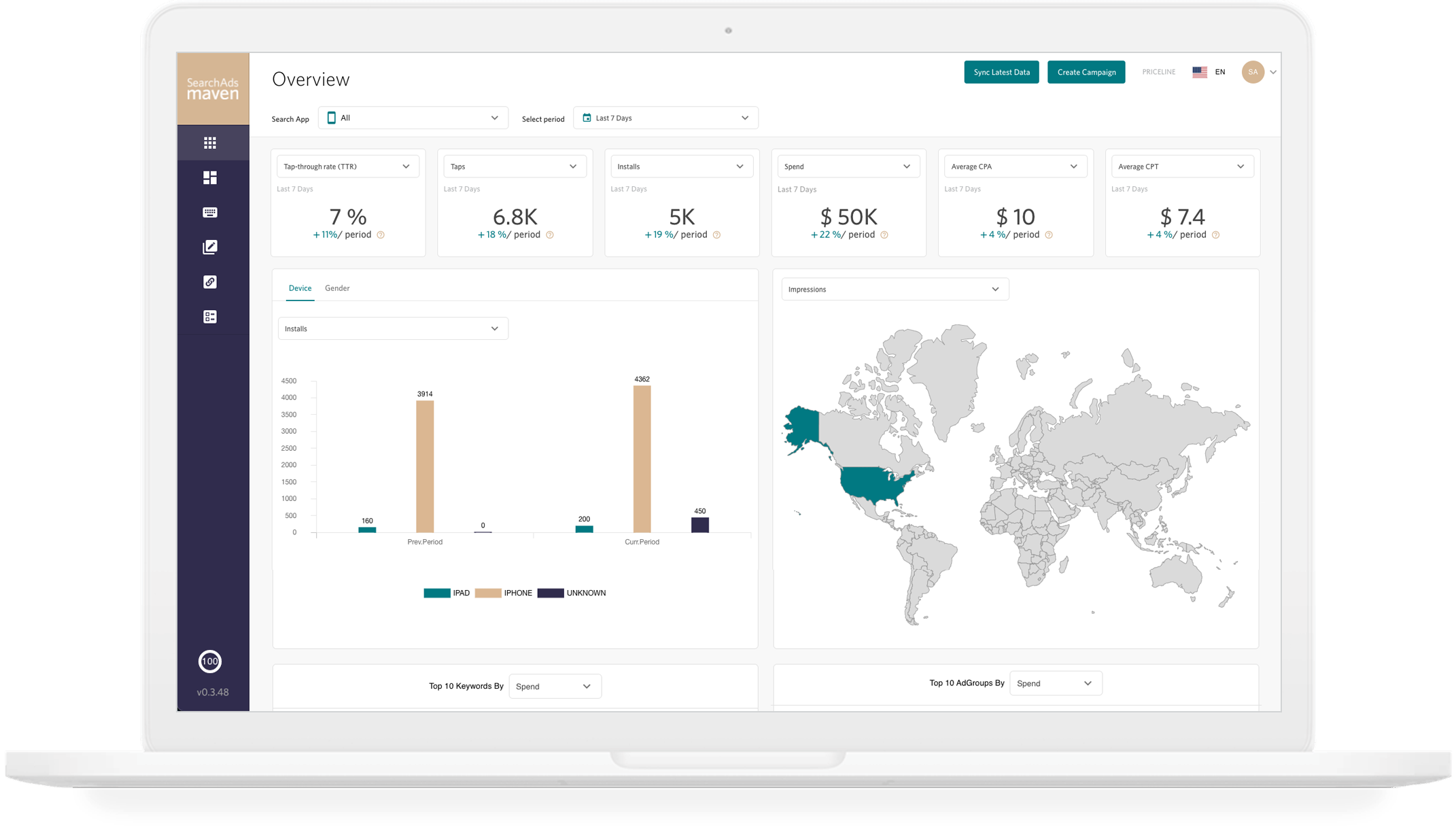 Are your ASA campaigns stuck on "Getting Started?"
Get up and running with Search Ads Maven now to accelerate your growth.
How it works
Search Ads Maven was designed to be THE BEST conquesting tool to buy keywords for Apple's App Store Search Results. Finally, there's an easy way to discover the words your competitors are winning with and move ahead of them in the results. You can even use Search Ads Maven to discover competitors you may not have been aware of.
What makes Search Ads Maven an expert?
The conquesting capabilities within Search Ads Maven are next-level, which simply means you have more powerful tools to discover and purchase the keywords your competitors are winning with and purchase them, moving your app into top position. Search Ads Maven's campaign automation capability lets advertisers choose targeting criteria, such as geo and demographics, and automatically generates all the needed ASA campaign segments. Other tools require advertisers to do this manually, wasting time and money. Search Ads Maven is built with the same hierarchy as Apple Search Ads, so it's faster to learn and easy to find what you are looking for right from the start. From simple to sophisticated, Search Ads Maven lets you get started fast with features like Quick Add but also includes complex research and discovery capabilities for the enterprise marketer.
Request a Free Demo & Consultation