Apple Search Ads Optimized and Elevated
Increase App Store installs without breaking your budget
Find & outsmart your competition
Optimize your bids automatically
Gain an expert in Apple Search Ads
Link your MMP data to see true App Monetization for your ASA ad spend
Use automation rules to automatically optimize your campaigns
Find your true App Install CPI based on deeper funnel metrics
Build better Apple Search campaigns from app launch to app veteran
Campaign generator for fast app store optimization
Win bids on on the right keywords for the right amount
Measure success on your own in-app events with our custom goal creator
Search Ads Maven combines data from your Apple Search Ads (ASA) account, your Mobile Measurement Partner (MMP), and AppTweak App Store Intelligence into one platform to help you manage, automate, and optimize all of your ASA campaigns.
Get Command and Control from one dashboard.
Use the tools to visualize actionable KPIs any way you need to make better decisions.
Get Started for Free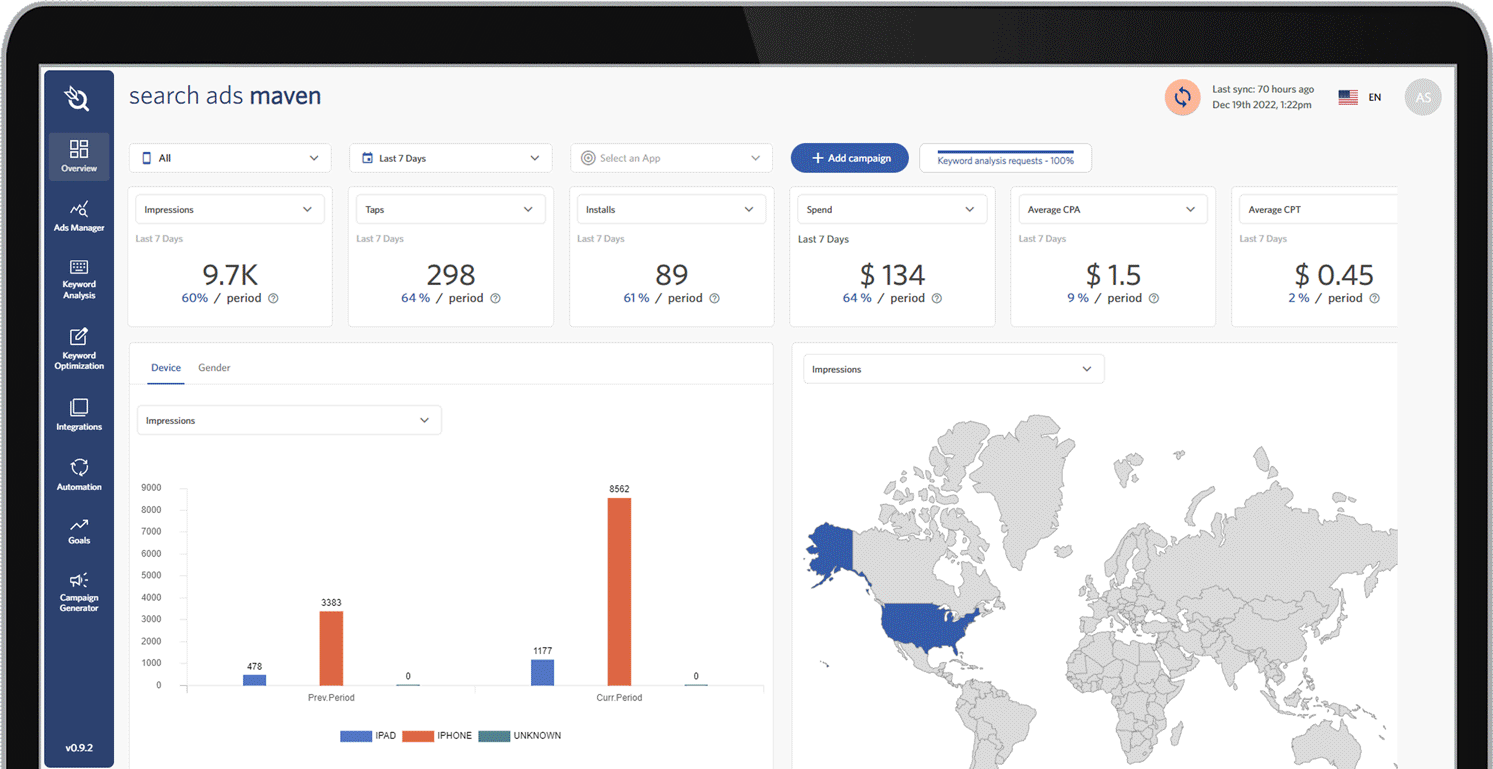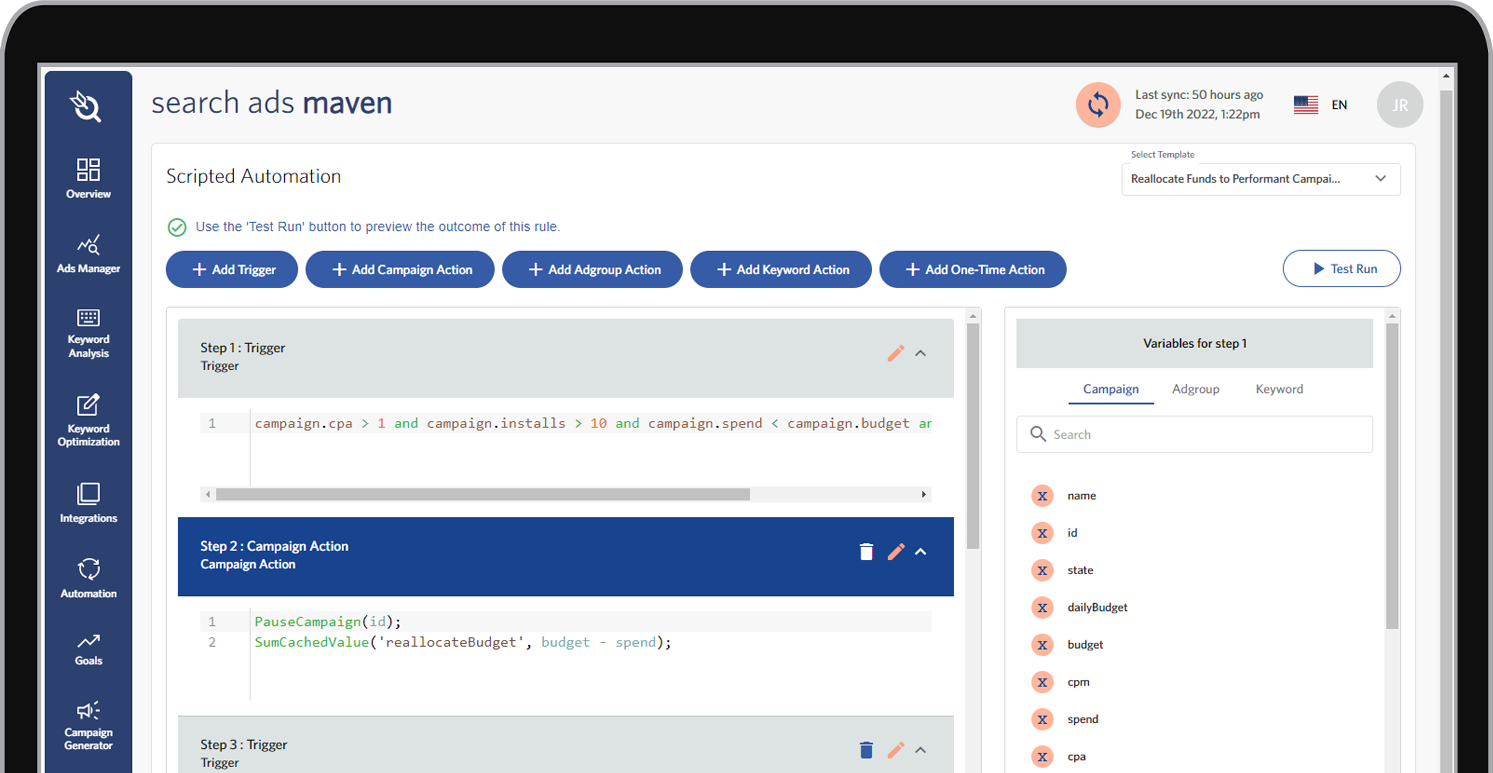 Automate & expedite campaign setup and maintenance
•   Create Custom Goals
•   Quick Add Keywords
•   Automate Campaign Optimization
•   Monitor Campaigns with Auto-Alerts
•   Unlimited rules with scripted automation
Speak to an expert
Apply actionable competitive intelligence
Research keywords and the competition within the same dashboard.
Get Started for Free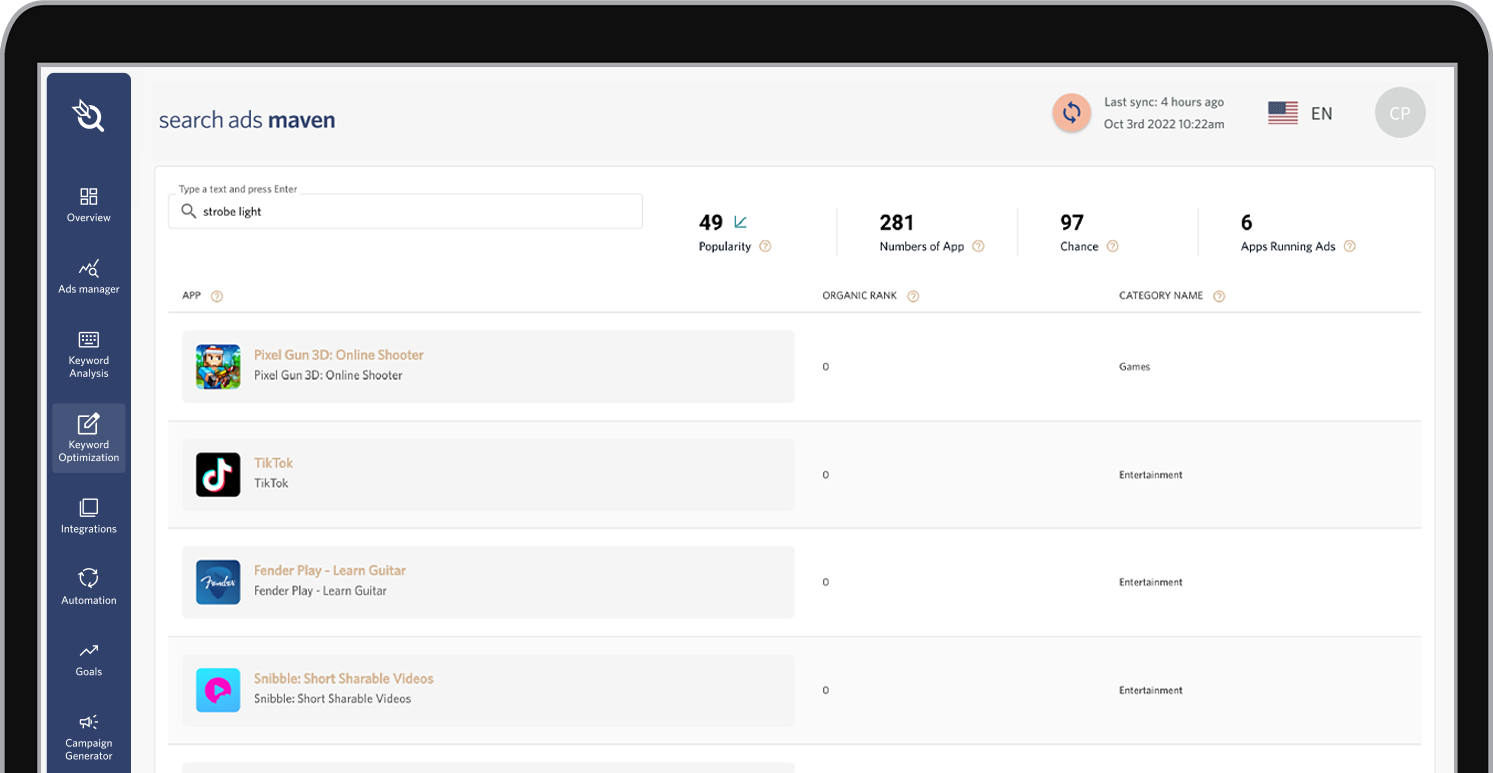 Are your ASA campaigns stuck on "Getting Started?"
Get up and running with Search Ads Maven now to accelerate your growth.
Get Started for Free
Explore key benefits and capabilities leveraged by expert ASA marketers.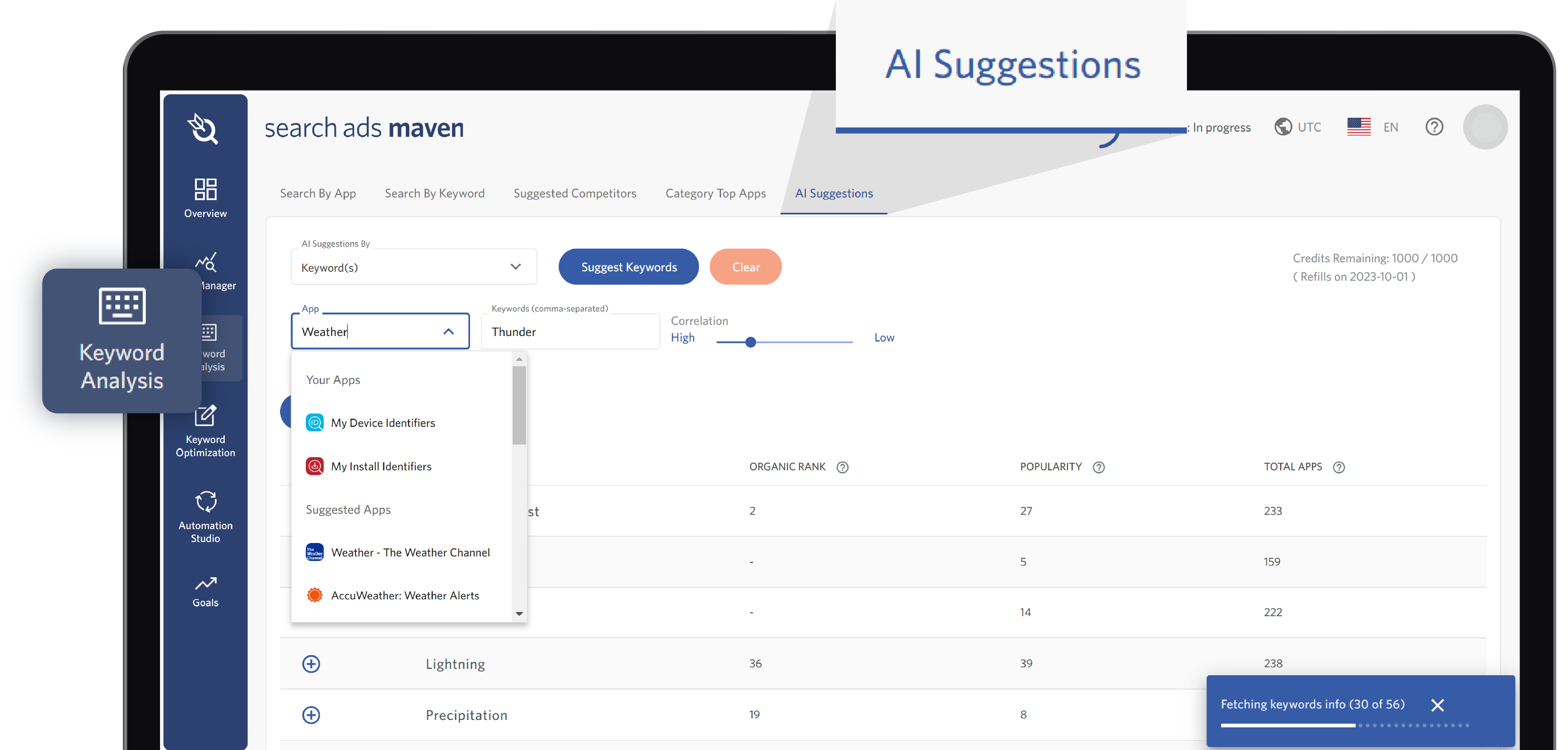 AI for Keywords
Tap into the power of AI to discover new keywords seeded by app features, language & country, and known keywords.
Optimize your current campaigns and find missing winnable keywords. Built-in intelligence allows you to find, research, and conquer the competition on day one.

MMP Integration
Integrate your existing MMP in minutes
Create Custom Goals based on in-app events
View keyword ROAS based on post-install revenue
See goal performance in analytics and reports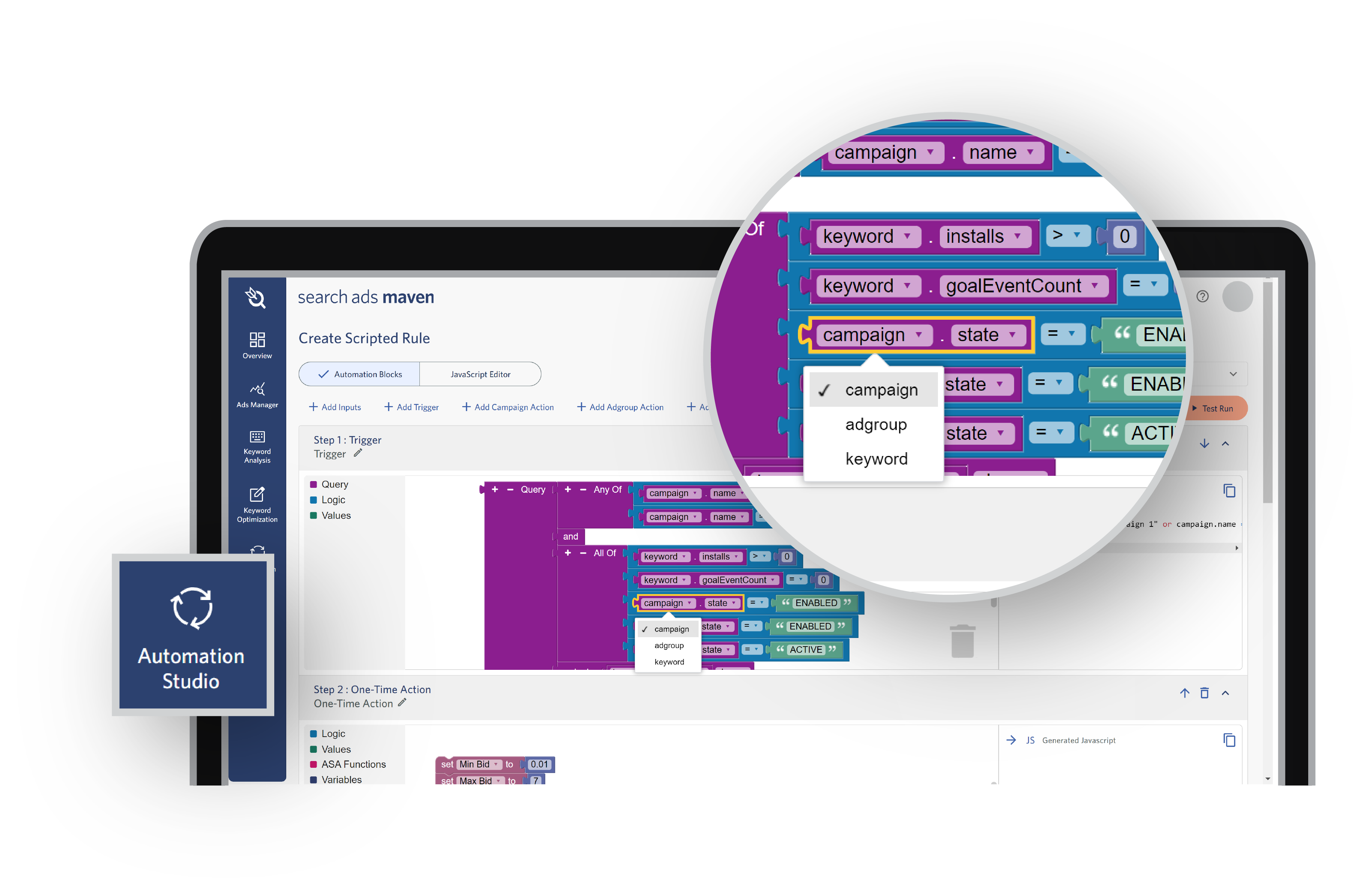 Automation Studio
Our Automation Studio removes the need for tedious, manual campaign management and instead, allows campaigns to adapt hourly to changing variables and competing max bids.
Automate bid and spend adjustments at the keyword, ad group, and/or campaign level based on CPA, CPG and/or ROAS goals.
Get Command and Control from one customizable dashboard.
Use the tools to visualize actionable KPIs any way you need to make better decisions.
Full control of all Apple Search Ads Campaigns