For many in mobile marketing, Apple Search Ads (ASA) is new territory where they might have only limited experience. Since the release of iOS 14.5 in April 2021 there has been a surge of interest in ASA results and App Store Optimization (ASO) as a whole. While it's clear Apple designed the ASA experience with a novice mindset, there are still quite a few questions that come up. Here are answers to some of the most common questions our clients have been asking.
Question: "I have placed ads on Facebook and Google in the past. How is Apple Search Ads (ASA) different from other pay-per-click (PPC) channels?"
ASA focuses more on keywords than what you might be used to with other PPC channels mainly because their demographic data is a bit more limited. ASA uses multiple algorithms to decide which apps win bids and rank within their store search results. Your bid amount is part of the equation but Apple uses your app's conversion rate, metadata, and user content like ratings and reviews to decide your app's placement with keywords.
Question: "What key performance indicators (KPIs) are the most important for Apple Search Ads campaigns? What metrics should I focus on?"
Unless you have linked up your account with a mobile measurement partner (MMP), all of your metrics for campaign measurement will be supplied by the App Store itself and that user data is specific to the store.
While the KPIs you want to look at can be varied based on the category of your app and its specific needs, the most universal metric you will always want to keep track of is conversion rate. Conversion rate is the number of downloads (installs) divided by the number of impressions an app's product page or listing receives (exposure). Conversion rate is especially important as it is one of the metrics used by Apple's algorithms to help rank you in organic results and winning bids.
Question: "What is full funnel bidding and how does it relate to Apple Search Ads?"
Full funnel bidding refers to the customer journey as it pertains to your app. For many, an install is just the start of that journey. As users open, interact, make in-app purchases or subscribe within the app the value they create for you will go up. The more they interact, the odds of them leaving a review or a rating will go up as well.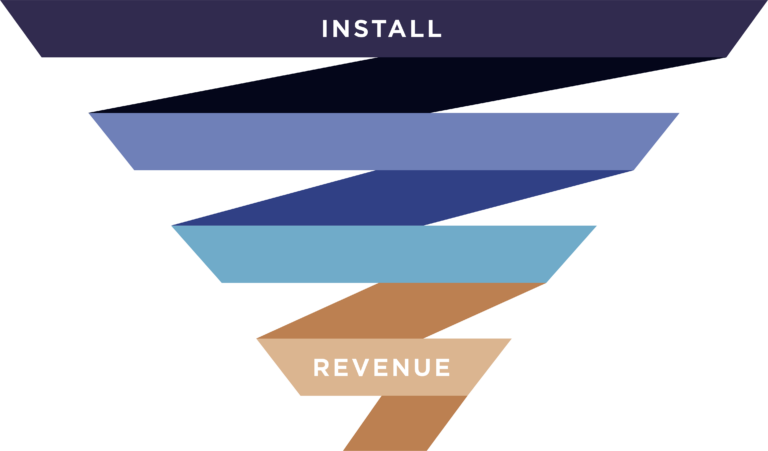 Different keywords bring in different users who will fill out different parts of that funnel. You want to make sure you are spending the right amount on the keywords for which part of that funnel you are targeting.
Question: "How does Apple determine which apps are in the top 10 for the search homepage?"
The top 10 is fully based on installs and install velocity over the past few days. Being top 10 in your keyword search results is more important as that has a more targeted interest group. Perhaps one day you will get to that top 10 of all apps but it's more of an achievement rather than a sales strategy.
Question: "How is organic rank and paid rank different?"
Organic rank is based on text relevance, which is the words that make up your app's title, keywords, and primary category but also user behavior like taps and installs. Paid rank is where the bidding for certain keywords comes into play, although placement and winning a bid is heavily influenced by your tap-to-install rate as well. Apple wants to make sure their results are relevant and if you keep bidding on a keyword that doesn't fuel any user interest Apple will take that into account.
Question: "What are the benefits of using an ASA campaign management platform (CMP) like Search Ads Maven?"
Using a CMP, quite simply, opens up large amounts of time savings and optimization tools for your ASA efforts. A CMP, like Search Ads Maven, has:
Automation rules you can use to control your campaigns
Ability to bulk upload keywords
Copy and duplicate campaigns
Research keywords and competitors
Easier performance visualization and analysis
MMP integration options to optimize ASA on fuller-funnel performance data
Question: "How does integrating my mobile measurement partner (MMP) into my ASA campaign management platform improve bid performance?"
MMPs are third-party measurement tools that allow you to measure and compare the effectiveness of your ad spend across many different marketing channels and partners on full-funnel app engagement data. The biggest MMP feature that will help us here is analyzing and optimizing our ASA performance against events that happen after the customer installs the app. This is incredibly important for apps that are free or make most of their margin with in-app actions.
Using this information fed to your CMP you can create custom goals which you can use to measure the success of and optimize your campaigns. Using custom goals is essential to breaking past ASA's install endpoint. With basic ASA data, we know about impressions, installs, and downloads, but now we can chart performance across three different deeper funnel goal types: revenue, user engagement, and user activity.
Question: "What ASA campaign automation capabilities exist in Search Ads Maven?"
Quite simply in Search Ads Maven we have the ability to automate optimization on almost any campaign level or performance metric that exists within ASA. You can create automation rules for:
Full Organizations
Individual Apps
Campaigns
Ad Groups
Or Individual Keywords
From there you can use both the metrics from ASA and your own custom goals (if you integrated with an MMP) to decide the conditions your automation rule will run off of. With the rule you can decide to have it make automatic changes to your campaigns or simply just notify you via email or Slack.
Some examples include:
Campaign Level– When installs reach a certain amount along with post install revenue being above a threshold, you can increase the budget for the campaign. This is an easy way to control your spend off return on ad spend (ROAS) metrics and automatically move more spend to the campaigns that are working. You can also switch this around and reduce ad spend on underperforming campaigns so that you can optimize your budget.
Application Level– When your spend for the entire app goes beyond a certain level, receive an email/slack notification. This makes sure you are on top of what is going on in ASA without having to constantly log in and check-in.
Keyword Level– When CPA for a specific keyword hits a certain amount you can have it send out a notification. This is important as some of the more competitive keywords can quickly outspend what you might have planned for or what you are willing to spend if you aren't paying attention.